Why Do Saddle River's Homeowners Choose Biosphere Landscape Architecture?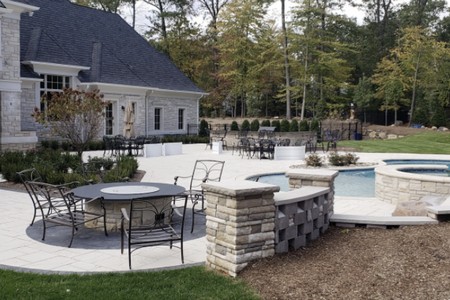 Our landscape design company offers support to all of our allied professionals during environmental, commercial, and residential landscape design projects in the Saddle River area. Biosphere Landscape Architecture collaborates with experts from other fields, and our qualified team follows the lead of land use attorneys and civil engineers while representing the clients' aspirations, communicating these concepts to other team members, and ensuring that the design vision is executed successfully.
Biosphere Landscape Architecture works closely with the following Saddle River professionals:
Land Use Attorneys
Property Managers
Civil Engineers
General Contractors
Landscape Contractors
Pool Contractors
Urban Developers
Architects
Interior Designers
Ideas for Your Saddle River Home's Hardscapes
Hardscapes such as outdoor fireplaces, fountains, retaining walls, and steps can transform the appearance of your residential property, and they contrast boldly with the softness of gardens and lush foliage.
If you're searching for a landscape architect with experience in designing and constructing hardscapes, reach out to Biosphere Landscape Architecture to begin planning your Saddle River home's hardscaping projects. Our landscape design experts can provide you with hardscaping services such as boulder placement, driveways, patios, brick and stonework, retaining walls, fire pits, and walkways.
Commercial Landscape Design Specialists
Placing your commercial landscape design project in the hands of skilled landscape design professionals is a great idea, especially if you'd like an expert opinion about various types of plants, landscape lighting, hardscapes, outdoor furnishings, and irrigation and drainage options. If you'd like your Saddle River commercial property to experience benefits such as improved customer engagement and increased cost savings, consider working with a reputable landscape design company to design, plan, and construct your hardscaping and landscaping projects with expert care and precision while using specialized tools, environmental practices, and technological knowledge.