Biosphere Landscape Architecture: An Experienced Paramus Landscape Design Company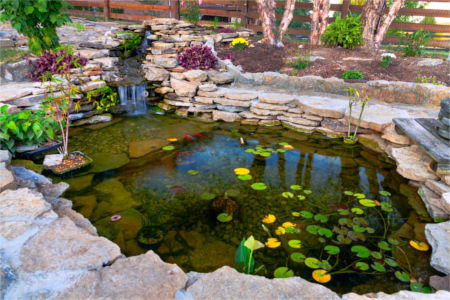 Our reputable landscape design company has years of experience in the landscape design field, and when Paramus residential and commercial property owners hire Biosphere Landscape Architecture, they have access to our skilled team's expert knowledge and professional tools and equipment to complete their landscaping projects.
Professional Landscape Lighting Solutions
Landscape lighting is often taken for granted by Paramus residents and business owners with adequate illumination after the sun sets, but if your residential or commercial property isn't illuminated sufficiently, you're probably familiar with the security and safety concerns associated with darkened entryways, steps, walkways, parking lots, and driveways. Our qualified landscape design experts can help you select attractive landscape lighting fixtures that will meet your qualifications and flatter the landscape of your Paramus home or business.
Common types of landscape lighting include the following:
Post Lights - can be mounted to railings, posts, or poles at a range of heights; available in many styles and finishes; and often placed near driveways
Flood or Security Lights - high-intensity, broad-beamed lights; illuminate large areas; can be paired with motion sensors or operated manually with a switch; and can be combined with smart security light features such as app controls, wireless setups, and camera connections
Pendant or Ceiling Lights - illuminate porches, gazebos, and entryways well
Step Lights - LED lights are constructed into tubes or short shapes that are appropriate for pathways and steps
Wall Lights - installed near walkways, stairways, and recessed areas; are directed downward; and can be purchased in a variety of materials, shapes, finishes, and colors
Exceptional Pool Construction Services
If you want to turn your Paramus backyard into a luxurious, tranquil oasis complete with a poolscape and lush plants, schedule pool construction services with a qualified landscape design company like Biosphere Landscape Architecture. When choosing plants for your poolscape, look for foliage that provides privacy, texture, and color to add dimension and contrast around your pool area.