New Jersey's Leader in Hardscapes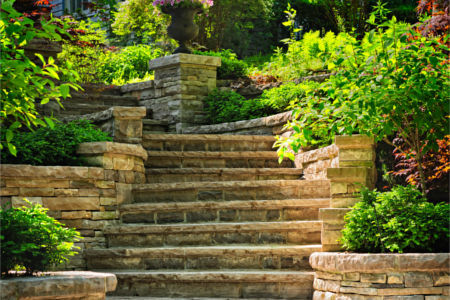 Biosphere Landscape Architecture not only offers landscape lighting, water ponds and waterfalls, outdoor kitchens, and pool construction services in New Jersey but also provides restoration and refurbishment services for hardscapes. These hardscaping services that our landscaping design company performs include brick and stonework, retaining walls, boulder placement, fire pits, walkways, driveways, and patios.
If you're looking for a landscape design company with experience in designing and constructing hardscapes, contact the skilled team at Biosphere Landscape Architecture to discuss your New Jersey home's hardscaping projects.
Retaining Walls
If your New Jersey property has slopes of varying heights, then you might want to invest in retaining walls. Retaining walls are hardscapes that hold horizontal loads of soil that are constructed from durable materials, such as brick, wood, and boulders. Bricks provide a natural look, and they won't rot like wood will. Retaining walls made of brick are eco-friendly, resistant to water and fire, and durable, and they require little maintenance. Wood, on the other hand, is prone to rotting, but it's a versatile, affordable, and lightweight retaining wall material. Retaining walls made of boulders have a rustic appearance, and they'll last for many years.
Outdoor Fireplaces
Transforming your backyard into an outdoor cooking and dining area can be simple, and all you'll need is to design and build an outdoor fireplace with experienced landscape design professionals. Pair your fireplace with durable outdoor seating, and you'll be ready to entertain guests in no time.
Fountains
Water features are also hardscapes, and if constructing a water pond or waterfall on your New Jersey property exceeds your budget, consider placing some fountains on your property instead. Design a fountain in any style, size, or shape that appeals to you, and surround it with a garden. Pot and pipe fountains are unique fountain shape options that add intrigue to your landscaping.
Steps
Steps are hardscapes that are both decorative and functional, and they can make New Jersey residential properties safer while increasing curb appeal. Railings can be installed along your steps, and you can choose from outdoor step materials such as concrete, brick, wood, stone, and aluminum.
---
Recent Articles
What to Look for in a Landscape Design Company
If you're envious of the landscape design of other homes in your Alpine neighborhood, consider requesting the assistance of a reputable landscape design company to transform your front or backyard's […]
Which Hardscaping Project Should You Complete This Summer
If you're thinking about adding key landscaping features to your Harrington Park property, consider hiring a landscape design company to build a few hardscapes among the flowers and foliage. Hardscap […]