New Jersey's Leader in Outdoor Kitchens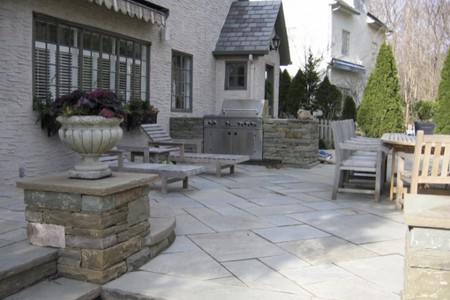 If you enjoy preparing and eating meals at home, consider investing in outdoor kitchens. Many New Jersey homeowners are discouraged by their limited food preparation space, so hiring landscape design professionals to design and build an outdoor cooking space complete with landscape lighting, kitchen amenities, and strategically placed greenery is a great idea. Outdoor kitchens have become popular for many reasons, including the additional sunlight, fresh air, and cooking, dining, and entertaining space that they provide.
If outdoor kitchens appeal to you, reach out to an experienced New Jersey landscape design company like Biosphere Landscape Architecture to discuss the design and construction of this functional and attractive outdoor feature.
What Should You Include in Your Outdoor Kitchen?
Bar - Bars can be added to outdoor kitchens easily. All that is required are countertop and base materials such as natural stone or reclaimed wood, a set of barstools, and an extensive beverage collection.
Outdoor Pizza Oven - If you participate in weekly pizza dinners, then investing in an outdoor pizza oven is essential. This feature can include brick pavers in a variety of colors, textures, and shapes.
Grill Station - Both amateurs and master grill cooks can benefit from the construction of grill stations in their outdoor kitchens. Wood and slate are common grill station materials, and popular grill station components include sinks, cabinets, and refrigerators.
Fire Pit or Fireplace - Fire pits and fireplaces are the perfect gathering places for you and your guests. Prepare campfire food such as corn on the cob, hot dogs, beans, and potatoes, and you can embrace the outdoors while staying close to home.
Popular Outdoor Kitchen Features
Grilling Island
Weatherproof Cabinetry
Built-In Sink
Outdoor Refrigerator
Grill Jacket
Stainless Steel Doors or Drawers
Pull-Out Chopping Board
Ice Drawer
Side Burner & Griddle
Outdoor Vent Hood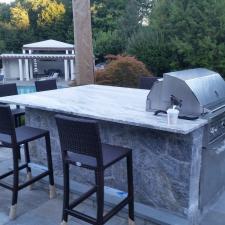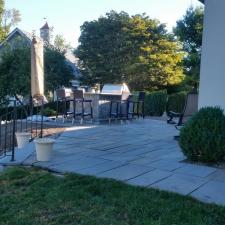 Landscape Design Ideas for Outdoor Kitchens
With the help of a reputable landscape architect in New Jersey, you can pair your new outdoor kitchen with well-crafted hardscapes and lush foliage. Consider the following landscape design ideas for your outdoor kitchen:
Place a potted herb garden consisting of chives, basil, and oregano on your grill station so that you always have access to fresh flavors.
Incorporate hibiscus or small conifers in large urns or planter boxes on your patio or porch.
Put up an organic privacy screen created from dense foliage barriers of evergreen arborvitae, Golden Goddess bamboo, or upright junipers to define your outdoor cooking and dining space.
---
Recent Articles
What to Look for in a Landscape Design Company
If you're envious of the landscape design of other homes in your Alpine neighborhood, consider requesting the assistance of a reputable landscape design company to transform your front or backyard's […]
Which Hardscaping Project Should You Complete This Summer
If you're thinking about adding key landscaping features to your Harrington Park property, consider hiring a landscape design company to build a few hardscapes among the flowers and foliage. Hardscap […]