New Jersey's Leader in Commercial Landscape Design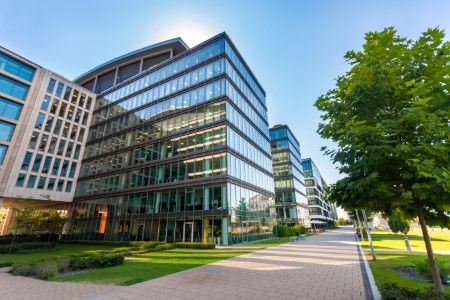 Our New Jersey landscape design company serves not only homeowners but also commercial property owners. Because commercial landscape design projects are complex, hiring an experienced landscaping company is advised because landscape design professionals have access to specialized tools, environmental practices, and technological knowledge.
If you're ready to begin your New Jersey business's commercial landscape design project, schedule a consultation with a reputable landscape design company like Biosphere Landscape Architecture.
How Can Landscape Design Benefit Your Business?
Adhere to Your Brand - Convey your brand by selecting landscaping and hardscaping elements that represent your company's message. For example, fountains indicate playfulness, Zen gardens exude tranquility, and native grasses suggest sustainability.
Improve Engagement - Encourage customers to stay at your business longer by adding seating areas that include benches, chairs, tables, and decorative features such as fountains and water ponds.
Increase Cost Savings - Conserve energy by planting shade trees near your commercial building.
Direct Traffic Flow - To make sure that customers have a clear pathway from their cars to your business building's entrance, strategically design walkways lined with trees, shrubs, or flowerbeds.
Attract Potential Customers - Ensuring that your commercial landscape design is attractive and welcoming is important because it can draw the eyes of potential customers and encourage them to check out your business.
Aspects of Commercial Landscape Design
Biosphere Landscape Architecture offers comprehensive commercial design services that include the designing, planning, and construction of landscaping and hardscaping projects, such as retaining walls, waterfalls, water ponds, and landscape lighting. Our commercial clients will ensure that you receive high-grade plant material, exceptional workmanship, and expert knowledge regarding the natural environment.
Our landscape design company can provide assistance with the commercial landscape design of a university, hospital, clinic, condo, apartment building, government building, retail shop, restaurant, and office building.
Landscaping elements to consider during the planning of your commercial landscape design include the following:
Hardscapes
Plants
Landscape Lighting
Outdoor Furnishings
Irrigation & Drainage
---
Recent Articles
What to Look for in a Landscape Design Company
If you're envious of the landscape design of other homes in your Alpine neighborhood, consider requesting the assistance of a reputable landscape design company to transform your front or backyard's […]
Which Hardscaping Project Should You Complete This Summer
If you're thinking about adding key landscaping features to your Harrington Park property, consider hiring a landscape design company to build a few hardscapes among the flowers and foliage. Hardscap […]