New Jersey's Leader in Landscape Design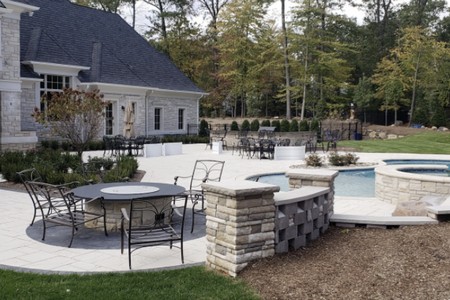 The ways in which you can personalize your New Jersey home's landscape design are endless, and Biosphere Landscape Architecture is here to help you address the advantages and disadvantages of each design until you find the one that you'll enjoy for years to come. Our landscaping company can bring your vision to life by providing landscape design services such as rain gardens, slope restoration, garden architecture, shrub planting, curb appeal projects, hardscapes, native and ornamental planting, drainage, garden design and care, erosion control, and shade gardens.
Choosing a Landscape Style
Many New Jersey homeowners plan their landscape design projects by determining which landscape style suits the architecture of their homes as well as their own tastes and preferences. Landscape styles derive from the natural looks of landscapes in specific locations, and you can mimic these landscapes right in your own yard. If particular plants aren't native to your location and won't grow well, you can still incorporate a different landscape style into your landscaping by adding hardscapes found in that landscape style.
Consider the following landscape styles for your New Jersey landscape design:
Mediterranean - brick or stone walls, stone pathways, and planter boxes
European Formal - mazes, benches, fountains, courtyards, and pruned shrubs
Japanese Zen - curved pathways, bridges, fish ponds, and clusters of bamboo
Tropical or Semi-Tropical - poolscapes, tall trees, ferns, shrubs, and brightly colored flowers
English Country Cottage - water ponds, waterfalls, bridges, shade trees, and brightly colored flowers
American Southwest - rocky landscape, stucco walls, covered patios, rock or gravel pathways, cacti, and poolscapes
Landscape Themes for Your New Jersey Property
You can add more personality to your landscape by adhering to a particular theme that often denotes your yard's function and purpose rather than its appearance. For instance, many homeowners choose to design their yards and gardens to attract local wildlife, to grow herbs and produce, or to add bursts of color in flowerbeds. If you're unsure about which landscape theme to choose for your New Jersey home, consult with the skilled landscape design specialists at Biosphere Landscape Architecture, your local landscape design company.
---
Recent Articles
What to Look for in a Landscape Design Company
If you're envious of the landscape design of other homes in your Alpine neighborhood, consider requesting the assistance of a reputable landscape design company to transform your front or backyard's […]
Which Hardscaping Project Should You Complete This Summer
If you're thinking about adding key landscaping features to your Harrington Park property, consider hiring a landscape design company to build a few hardscapes among the flowers and foliage. Hardscap […]