New Jersey's Leader in Pool Construction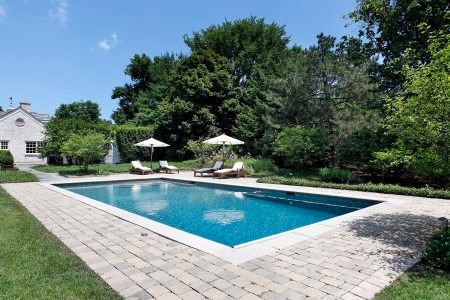 With the help of Biosphere Landscape Architecture, a trusted landscape design company in New Jersey, you can accomplish a variety of landscaping projects on your commercial or residential property, such as hardscapes, pool construction, water ponds and waterfalls, and outdoor kitchens. Our landscape design specialists are experienced in pool construction, and they can provide assistance throughout every step of the process.
Contact Biosphere Landscape Architecture if you require the expertise of a premier landscape design company in New Jersey to help you design and complete your pool construction project.
Pool Design
When you're designing a new pool for your New Jersey residential property, the possibilities are endless, and as long as you stick to your budget, nothing is holding you back. The material, size, shape, and features of your pool are all determined by your personal tastes and preferences. Some homeowners pair their new pools with landscaping features such as lattice patio covers, walkways, pergolas, fire pits, and retaining walls.
Consider and discuss the following pool construction and design ideas with the landscape design professionals at Biosphere Landscape Architecture:
Underwater Lighting - Create a fluorescent glow inside your pool to illuminate the water during the evening.
Sloped Entry - A low-graded slope entry is a great alternative to steps, and it makes your new pool accessible to everyone.
Narrow & Long Pool - Make the most of a small backyard by stretching a narrow pool across the length of the lawn.
Central Seating Area - Incorporate a seating area into your poolscape by wrapping your pool around centrally located benches, chairs, and tables.
Wading Pool - If you don't plan to dive into deep water, then a wading pool is just the thing to cool you off on a hot day.
Landscaping Ideas for Your Pool
Hiring landscape design specialists is especially helpful if you want your pool construction project to include plants and foliage. Careful research should be completed before these plants are selected for your poolscape, and Biosphere Landscape Architecture has all of the expert knowledge you'll need to make an informed decision. Some plants are better for poolscapes than others, and our skilled team can help you navigate these decisions.
Consider and discuss the following plants and foliage for your New Jersey poolscape:
Queen palm
Pale-leaf yucca
Trumpet vine
Red justicia
Feather grass
Southern live oak
Azure bush germander
Fortnight lily
Bamboo
Deer grass
Jasmine
---
Latest Pool Construction Projects
Recent Articles