Upper Saddle River's Trusted Landscaping Specialists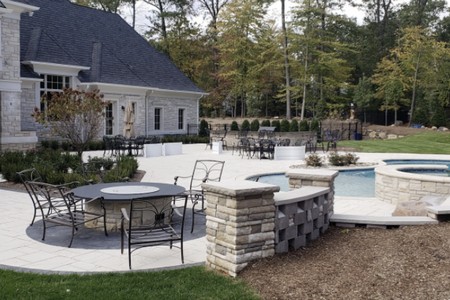 Biosphere Landscape Architecture is a landscape design company that serves both residential and commercial clients in the Upper Saddle River area. Our skilled team has assisted with the landscape design and construction projects of private residences, religious facilities, non-profit organizations, allied professionals, government agencies, and developers.
Homeowners and business owners in Upper Saddle River request a variety of landscaping services from our landscape design experts, and these services include landscape lighting, pool construction, hardscaping, commercial landscape design, and outdoor kitchens. Don't hesitate to contact our landscape design company to learn more about our services, discuss your upcoming landscape design and construction projects, and ask our landscape design professionals questions so that you can make informed decisions regarding your property's landscaping.
Pool Construction Considerations for Your Upper Saddle River Home
If your dream is building a swimming pool in your Upper Saddle River backyard, our qualified landscape design specialists can make this dream a reality. As you plan your pool construction project, several aspects must be considered, including your pool's size, location, materials, and features as well as your yard's soil conditions. All of these factors contribute to the pool's overall cost, and our landscape design company can help you adjust each of these aspects so that you maintain your budget during pool construction.
Hardscapes That Can Transform Your Residential Property
If you want to add personality and beauty to your Upper Saddle River property, consider hiring a reputable landscape design company like Biosphere Landscape Architecture to design and build hardscapes such as fountains, retaining walls, steps, patios, and walkways for your lawn.
Hardscapes can be constructed from durable materials such as metal, concrete, wood, brick, and stone, and these features can be both decorative and functional. Our company provides all of the expert knowledge and specialized tools and equipment necessary to create beautiful hardscapes.