New Jersey's Leader in Landscape Lighting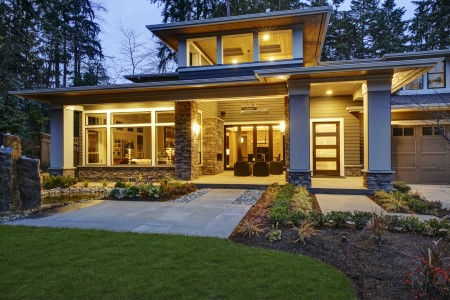 Whether you want to improve the illumination of your New Jersey residential or commercial property at night or you need to replace landscape lighting fixtures, Biosphere Landscape Architecture, an experienced New Jersey landscaping company, can help you choose landscape lighting fixtures that offer security, safety, and beauty. Contact a trusted landscape company like Biosphere Landscape Architecture if you'd like to learn more about landscape lighting solutions in New Jersey.
Why Should You Schedule Landscape Lighting Services?
Spend More Time Outside - When your porch, patio, or deck is illuminated properly, you don't have to head indoors when the sun sets. Strategically placing landscape lighting fixtures around your outdoor living spaces will encourage you to spend more time dining, entertaining, and relaxing outside during the evening hours.
Highlight Architectural Features - When you illuminate key landscape design and architectural elements at night, your family, friends, and neighbors can appreciate these features after dark. If you want to make sure that certain areas of your home are on display during all hours of the day, consider installing landscape lighting that illuminates these features.
Benefits of Landscape Lighting
Security - Dark areas of your home's exterior and property may pose threats to your household, but illuminated areas provide security and deter trespassers and burglars. Landscape lighting draws attention to your home at night, and your insurance company might even offer an insurance credit, reducing your home's insurance premium because of the added security that exterior lighting provides.
Safety - Landscape lighting increases visibility, decreasing the risk of trip hazards when your family is arriving home at night or when you host evening parties.
Curb Appeal - You can accentuate the most beautiful aspects of your residential property when you install landscape lighting. When you highlight key features such as trees, garden walls, and water ponds, the eyes of guests, neighbors, and potential buyers will be drawn to your home and its landscape.
Types of Landscape Lighting
Ask our landscape design specialists at Biosphere Landscape Architecture about the following types of landscape lighting to learn about their functions and characteristics:
Security or Flood Lights
Post Lights
Ceiling or Pendant Lights
Wall Lights
Step Lights
---
Recent Articles
What to Look for in a Landscape Design Company
If you're envious of the landscape design of other homes in your Alpine neighborhood, consider requesting the assistance of a reputable landscape design company to transform your front or backyard's […]
Which Hardscaping Project Should You Complete This Summer
If you're thinking about adding key landscaping features to your Harrington Park property, consider hiring a landscape design company to build a few hardscapes among the flowers and foliage. Hardscap […]